Review by Jussi Pesonen, President and CEO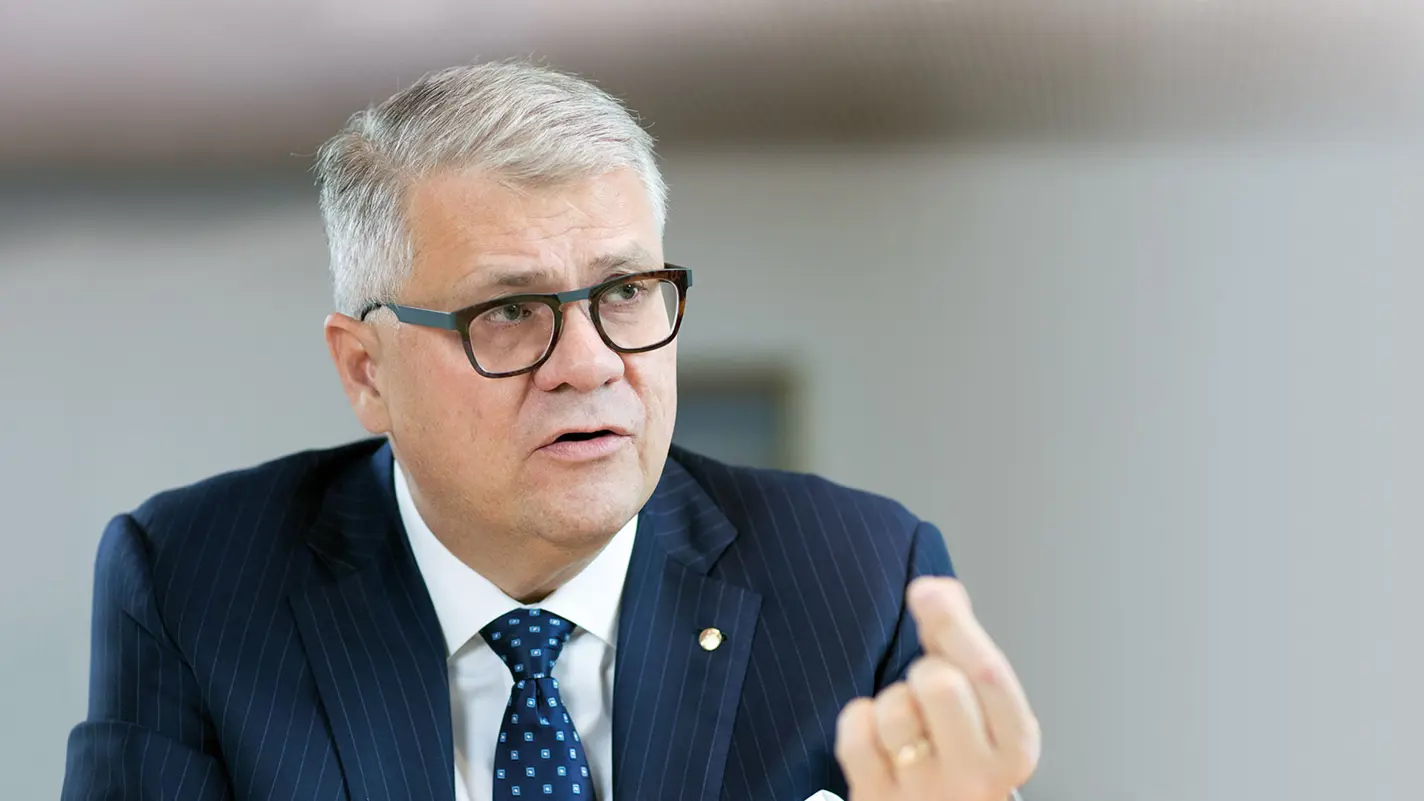 BEYOND FOSSILS
2018 was a record year for UPM

Future beyond fossils is a key driver for UPM going forward

UPM is in an excellent financial position

The long-term outlook for our businesses is stronger than ever
2018 was a record year for UPM. While the uncertainties in the global economy increased towards the end of the year, we delivered excellent results and achieved our 23rd consecutive quarter of earnings growth.
The year was a commercial success as our sales grew and we were able to mitigate higher input costs. We laid the groundwork for future growth in our current and new businesses and received exceptional recognition for our responsible performance. The results for 2018 demonstrate the impact of many years of transformation. I wish to thank all UPMers and our partners for achieving excellent results together.
Our sales grew by 5% and comparable EBIT increased by 17% in 2018. Our cash flow was strong, and our net debt fell below zero to EUR –311 million.
Our strategic guidance remained unchanged: Our portfolio consists of six competitive businesses with strong market positions and high barriers to entry. Performance, growth, innovation and responsibility continue to be the four cornerstones we build on.
In November, we received news of unspeakable sadness as it was confirmed that Heikki Vappula, Executive Vice President of UPM Biorefining, had died in an accident. We owe a debt of gratitude to Heikki who was a visionary and an inspiring executive. His insights and energy will be greatly missed by colleagues, as well as by business partners around the world.
Future beyond fossils
Looking forward, we are excited about 2019. Future beyond fossils is a key driver for UPM going forward. We have clearly defined the spearheads for our growth: high value fibres, specialty packaging materials and molecular bioproducts will pave our way.
We are building a more sustainable future by replacing oil-based and other non-renewable materials with renewable alternatives, by using them efficiently and creating entirely new kinds of products and services. Through bioeconomy innovation, we have an opportunity to expand into completely new business areas beyond fossil economy.
In the coming decades, changing consumer preferences and new consumers in emerging economies will create significant new demand and a raised bar for businesses, when it comes to responsibility and integrity.
We believe that customers, investors, and other stakeholders value responsible operations that keep risks under control and add to our business opportunities, increasing the company's value.
Our objective is earnings growth. We will maintain our high standards when it comes to return requirements for any growth investments.
In addition to executing various low-risk, focused growth investments, we continue to evaluate our transformative prospects that provide us with unique opportunities for significant long-term earnings growth.
In Uruguay, preparations for the potential new world-class pulp mill are proceeding. The implementation of the investment agreement between UPM and the Government of Uruguay will be at an intensive stage in 2019. For UPM's pulp business, the potential mill would mean a step change in business size and earnings.
In UPM Biochemicals, the basic engineering work for the potential first industrial-scale biochemicals refinery in Germany continues. In UPM Biofuels, we have completed the Environmental Impact Assessment for a possible biofuels refinery in Finland. These molecular bioproducts businesses have the potential to provide UPM with a significant growth platform for decades to come.
Shareholder value at the core
Creating shareholder value is at the core of our strategy, and we believe that this also benefits other stakeholders and society in the long term. Our ongoing transformation and steady progress in financial and responsibility performance has been reflected positively in the share price in recent years. During 2018, we reached a new record share price in the autumn, although the share price decreased towards the end of the year.
UPM's Board of Directors has proposed a dividend of EUR 1.30 (1.15) per share for 2018, up 13% from last year. The proposal, which is above company's long-term dividend policy range of 30-40%, reflects UPM's exceptional financial position and confidence in future cash generation.
Over the next few years, we can allocate more capital to growing and transforming the company while simultaneously increasing the distribution to our shareholders and maintaining headroom in our strong balance sheet. We will also ensure that our employees have the competence, integrity and drive to make our strategy come true.
Global economic growth is estimated to continue in 2019, albeit at a slower pace than in 2018. While there are uncertainties in the operating environment, UPM is well-positioned for 2019 and beyond. The long-term outlook for our businesses is stronger than ever. It is driven by global consumer megatrends, more sustainable consumer choices and the need to reduce reliance on fossil resources.
UPM is ready to grasp the limitless opportunities that bioeconomy offers for value creation and business growth.
Jussi Pesonen
President and CEO