Our Sustainable Product Design concept supports and steers our product development projects, promoting a sustainable product lifecycle approach and ensuring that every new product and service we design has a proven sustainability value proposition. Our system also guarantees that we support the UN Sustainable Development Goals.
According to Heikki Ilvespää, Vice President, R&D, UPM, the Research and Development team has been heavily involved in this project, along with the Responsibility team who has been actively working to strengthen the connection of our products and solutions to the SDGs. "For many companies it has been difficult to clearly show the contribution they make towards these goals."
Our overriding ambition in all product development work is to identify the customer's or consumer's problem and solve it. Our further leading principle is that customer collaboration should be initiated early in the design phase to help us find the optimal solution to every sustainability challenge.
The sustainable product design concept was tested on the development of lignin products in 2020. During 2021, the work continued with packaging and biocomposites, for example. Particular attention was paid to the role of products in a circular economy. UPM will also continue to explore the concept to develop novel flexible packaging solutions and sustainable fibre-based materials that can be used in nonwovens and hygiene products, among other things.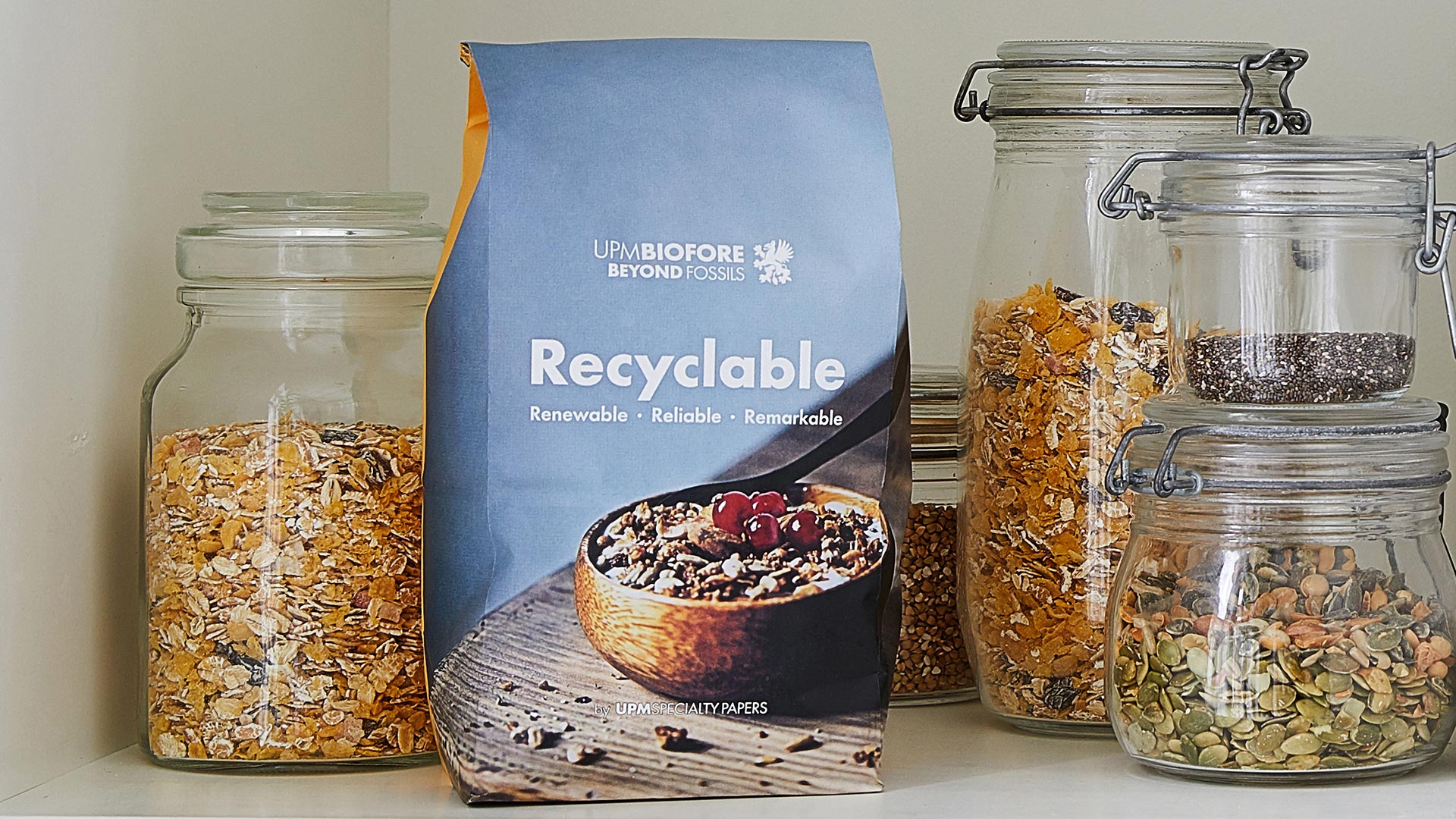 Biocomposites as a pilot
Suvi Rasa, Sustainability Manager at UPM Raflatac, was part of the project, and a Senior Researcher in the R&D team until October 2021. "We have been incorporating design thinking methods to this concept and brought together a group of different UPM business representatives to develop these methods. Following that work, we piloted the renewed concept with our biocomposites business."
Mikko Lassila, Director, Business Development, UPM Biocomposites, has been involved in the sustainable product design project since its conception. "The concept was built in a small core team led by the R&D. I was a member of that team, and that is why it was only natural to choose UPM Biocomposites as a pilot," Mikko explains.
"Biocomposites can be considered as a start-up within a large corporation. Out of biocomposites' two businesses we chose UPM ProFi as a pilot in this project. UPM ProFi is taking waste generated within UPM Raflatac and their customer base in Europe and turning it into outdoor decking goods. This process is very much at the heart of the circular economy and thus also at the heart of this concept."
UPM sustainable product design concept and sustainable product lifecycle model
To describe the UPM Sustainable Product Design concept, in late 2021, the company applied the following new model.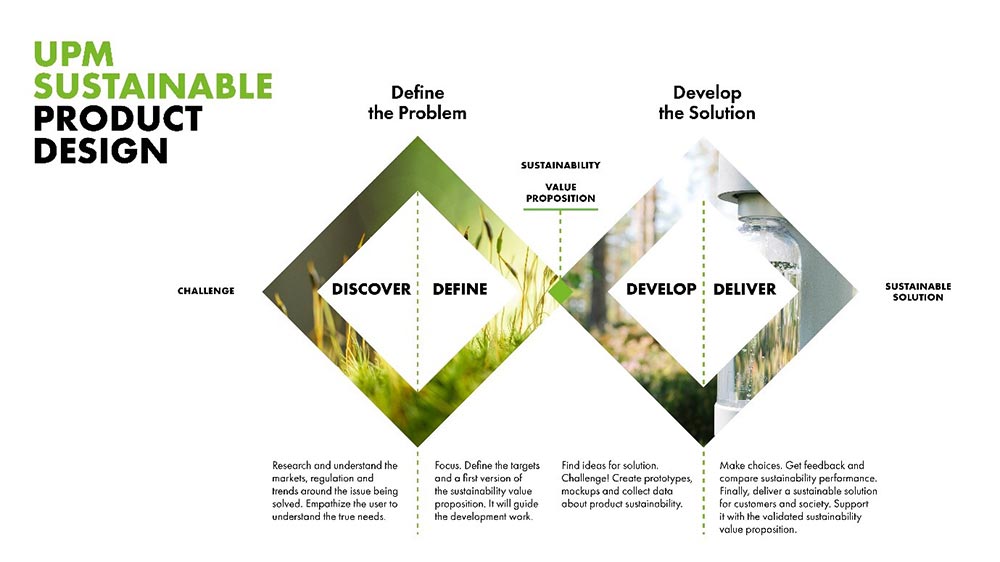 "When designing the new concept, we had a deep dive to different design thinking approaches. We found the British Design Council's' double diamond' model closely corresponding to our thinking. So, we adopted this framework as it provides a lens to look holistically at the whole lifecycle and a way of integrating design thinking as a vehicle in product development," says Lassila.
"The value is that with the help of the sustainable product design model, we can carry on the conversation with brand owners and converters on how we see their product journey could go with our material. This helps them to phrase their questions on sustainability, because there are many solutions around us on a material and technological level. So, while we speak of this green transition on a bigger scale, the challenge for brand owners and converters are multiple because there are many different angles towards sustainability."
"We have looked at many brand owners whose products end up in recycling. It has been notable that in the last two or three years, the Life Cycle Assessments (LCA) of products have become increasingly important for brand owners." An LCA can be used as a cradle-to-cradle methodology to assess the environmental impact of product's life in multiple stages. "They realised they had honed the logistic chain and the production," says Lassila. "The potential is increasingly focusing on materials. They want to know how they could hit their CO2 reduction goals."
"In addition to the Sustainable Product Design concept, we have also renewed our ecodesign model which is seen more like a sustainable product lifecycle. It describes a product lifecycle starting from the design phase and includes variables like raw materials, production, distribution, use, circularity and design to consider elements that contribute to product sustainability by improving circularity, material efficiency or social aspects," Rasa explains.
"We wanted our businesses and product developers to consider all the steps from the beginning of the product development. This detailed and qualitative SDG questionnaire is a tool that helps see which phases during the lifecycle have a positive or negative impact and to which of the SDGs the products and services are contributing. This is all done at the beginning of the product development, so it is also like a training process for product development people. Later when you are actually launching the product and you want to say something more quantitative, you can use the LCA analysis."
Using the toolbox
"When the team presented this concept to our businesses, it was warmly welcomed, and everybody expressed an interest to do and learn more. At the moment, we are proceeding one business at a time based on the potential there is in each business," adds Rasa.
"The concept has to motivate and support the businesses," says Ilvespää. "And if it doesn't, then they will not use it. The challenge for many of our businesses has been the complexity of our model. The new concept introduces a simple process and a toolbox that helps us and our customers to crystallise the value proposition - in other words, how our product contributes positively to the customer's product portfolio.
Suvi Rasa is happy with progress. "The fact that some of our businesses took the chance to pilot this model has been the highlight of our work."
"From a broader sustainability perspective, we have been able to increase the share of recycled material in our UPM ProFi products," adds Lassila. "We also learned that in order to fully utilise the sustainable product design concept, the process has to be put into practice together with a customer as they can bring new insights."
For Heikki Ilvespää, the positive outcome of all this is that the efforts have begun to pay back. "The first steps we have taken with real products look very promising. It's really about looking at the targets first, then putting out a value proposition and only as a third step to start designing a product. Customers are now critically looking at CO2 emission reductions or aiming towards net-zero. This very nicely promotes our purpose to create a future beyond fossils."