The modern vessels starting operations during this year will be more eco-efficient and can be fuelled either by liquefied natural gas (LNG) or conventional marine fuel. And in the future, they will also discharge all their wastewater ashore at our main ports in Rauma, Kotka, Hamina and Pietarsaari.
Bore Way was christened by Anu Ahola, SVP, Operations at UPM Communication Papers on 1st July in Rauma, Finland.

The dress code for a christening is business, so the red hat I designed to honor the work of the famous explorer Jacques-Yves Cousteau had to be left at home.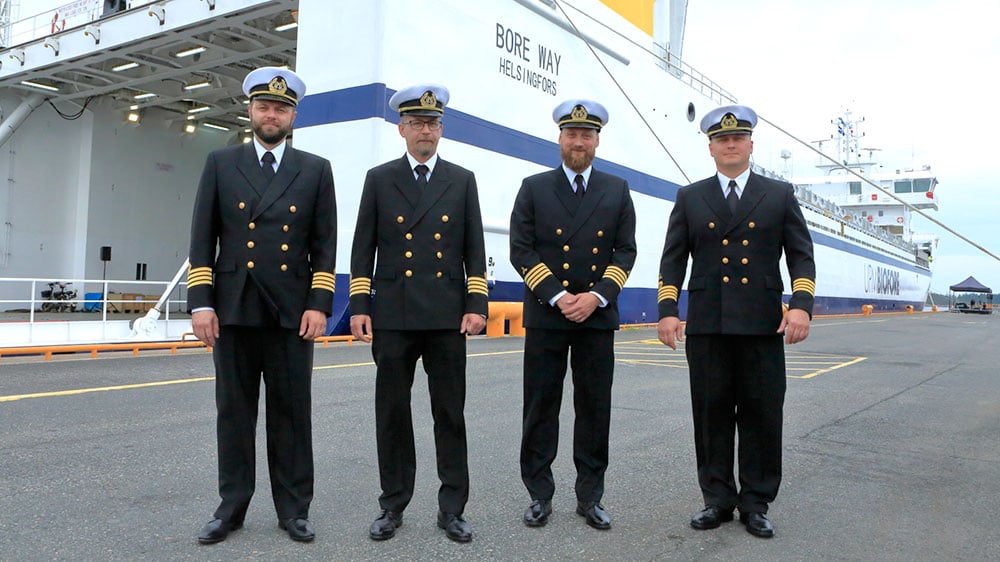 Proud crew of Bore Way ready for environmentally smart sailings from Rauma to Rostock, Germany. Great hats, even though not red.

The red cap was inspired by the "Ship Waste Action" initiative by our partner, the Baltic Sea Action Group (BSAG), whereby UPM commits to divert ship-generated wastewater discharge from sea to land.
Cousteau used to dive on TV screens when I was a child, which is probably why I got my first own wetsuit and explored the Baltic Sea under the surface. On the opposite of an older gentleman from my wife's side of the family, who used to dive in the depths of more than 10 metres at Seiskari, my own experience, at worst, was to fumble along on the bottom of the eutrophic sea.
Due to a shrunken wetsuit, my diving experiences have been few and far between lately. But I have come to realise that as a result of good cooperation between many parties, positive signs are beginning to emerge, this time in the water rather than in the air. Fortunately, more and more actors are concerned and interested in the state of the Baltic Sea. Despite good progress, more cooperation is needed, which is why we are challenging other shippers, ports and the entire maritime value chain to join the Baltic Sea Action Group's initiative. In this way, positive developments will continue, and we will all be able to enjoy the good results in the future.
While enjoying the July holidays, I wish you plenty of sunny sails, clear waters and more cooperation for the well-being of our Baltic Sea!
Photos: Bore Oy Ab by Petro Silvennoinen