Every weekday morning, Xu Jing and Wang Song join hundreds of their colleagues on UPM's company buses, riding 30 minutes through the vibrant crop fields and past the developing Changshu Economic & Technological Development Zone, from downtown Changshu to the UPM Changshu Mill, which is located alongside China's longest waterway, the Yangtze River. 100 kilometres from Shanghai, the surrounding area of Changshu is in the heart of one of the country's largest industry hubs.
Both born and raised in Changshu, the couple simultaneously started their first job at the UPM Changshu Mill after graduating from university in 1998, shortly after the mill was established. "I decided to join UPM without a second thought, as it was among the first foreign companies that set foot in Changshu, offering brand-new career opportunities," Xu recalls.
Wang shares his wife's thoughts, adding that Changshu, a picturesque city with 1.5 million habitants and seven rivers running through the downtown area, is such a slow-paced place providing abundant nature that he has never considered to leave. "I'm glad that UPM recruited me at that time, so I don't have to leave my beautiful hometown for work."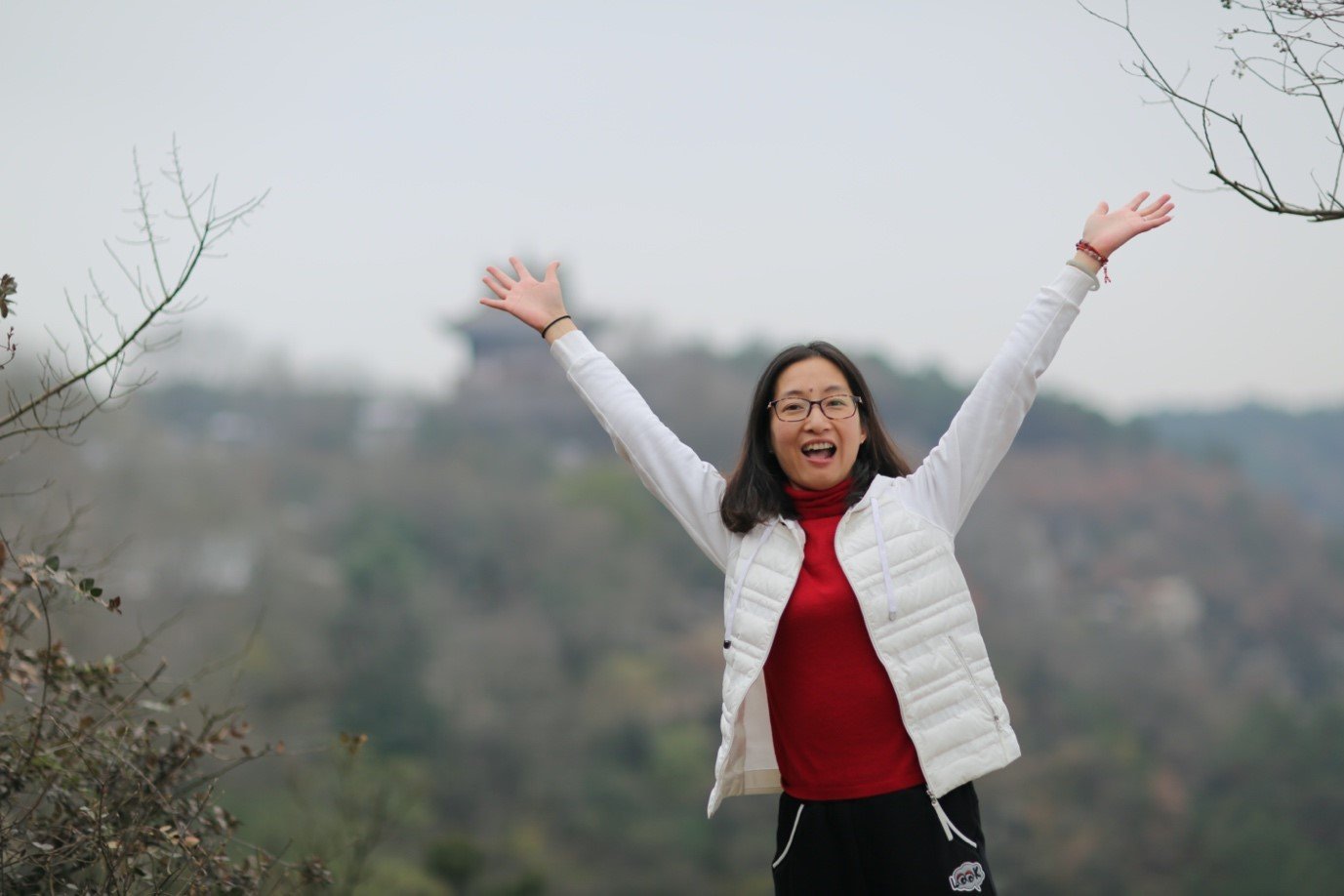 Xu is grateful that she can have a career in her beloved hometown.
More than two decades of continuous growth
During the past 22 years, the couple has witnessed every step of the mill's development and expansion. The UPM Changshu mill currently runs three paper production lines and converting lines, with a self-owned power plant and a water treatment plant supporting the manufacturing. Together with the UPM Asia R&D Center and the APAC Supply Chain Centre on the same site, the mill has around 1,300 employees, most of whom are Changshu natives like Xu and Wang.
The mill has accompanied Xu and Wang through their career growth. After working at the production department for 16 years, Xu moved to the Sourcing department and now works as senior category buyer in charge of function sourcing and waste management. Meanwhile, Wang climbed up the career ladder through a number of positions on the mill's production lines and landed on his current role as product manager at UPM Specialty Papers, leading his team in the development of new paper product portfolios tailored for customers in the Asia-Pacific region.
"Through our different roles at UPM, we've been learning new knowledge and skills all the time. There are always new challenges to tackle and new opportunities for career development. It feels like we're growing together with the company," the couple chime in unison.
The UPM Changshu Mill also marks the beginning of Xu and Wang's family. The two first met at work, were attracted to each other because of their similar lifestyles and eventually established their home in central Changshu. "UPM was like our matchmaker," Xu chuckles.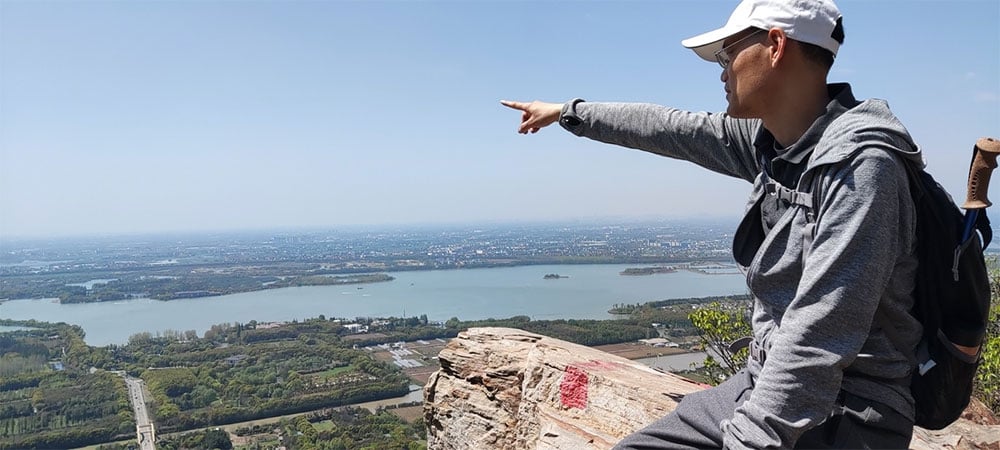 Spending time in nature is important to Wang and his family.
Contributing to a better living environment
Over the past years, the Changshu region has turned into a thriving economic zone hosting manufacturing sites belonging to many international brands. As Changshu residents, Xu and Wang are happy to see their city experience rapid economic growth without environmental damage as a trade-off. The local government and several sustainability-focused companies have been continuously making efforts to preserve the city's natural landscape and build a greener living environment, with UPM as one of the forerunners.
"UPM is renowned for its sustainability practices in the region," says Xu. "Last year, our mill was again recognised as a Water Efficiency Frontrunner, the highest recognition issued by the Chinese government on water resource management. The mill first received the award in 2017 as the only paper company among the 11 awarded factories in that year. At the same time, we are also listed as a "green factory" and "Green Development Frontrunner" by the Jiangsu provincial government for its achievements in cutting air and water pollutants."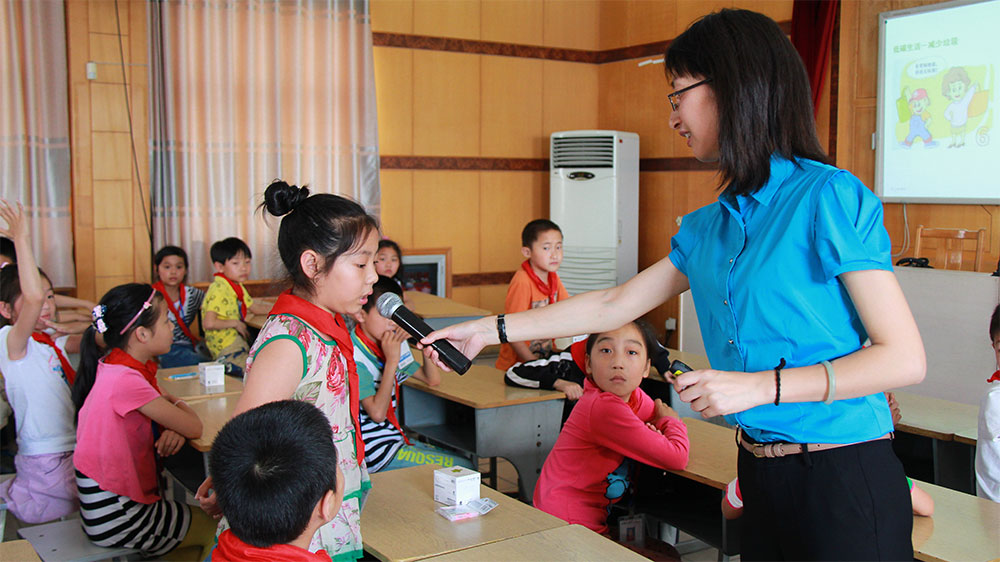 Xu enjoys giving back to the Changshu community.
Walking into the community
Besides implementing UPM's sustainability practices at work, Xu and Wang have also been engaged in the company's initiatives of raising environmental awareness among the local population. Over the past 10 years, the mill's employee volunteers have visited more than 60 local schools across nine neighbourhoods, sharing knowledge about environmental protection and sustainable paper manufacturing.
The mill has also partnered with the local government in a number of environmental and health promotion campaigns, encouraging citizens to maintain a clean environment and live a greener lifestyle.
"It feels especially good to share knowledge and work with people from our own community, because together we're making our living environment better," says Xu.
Seeing the development over the past years, the couple is confident that Changshu is moving towards an even more liveable place. Every weekend, they have a family routine in which they stroll in Yushan Forest Park at the border of the city and sip some local tea. "We've always enjoyed living here in Changshu. We know that its beauty will not change, because we're protecting it ourselves," Xu and Wang conclude with a smile.
Text: Letitia Lin