UPM Biochemicals has acquired SunCoal Industries GmbH, a German-based company that developed a unique technology portfolio to produce performance products from renewable raw materials. With this acquisition SunCoal Industries' technology will be integrated into the production of UPM's BioMotionTM Renewable Functional Fillers (RFF), one of the products to be produced at UPM Biochemical's first-of-its kind biorefinery in Leuna and strengthen the overall technology portfolio of UPM's biorefining businesses.  
The ownership of SunCoal Industries and its team specializing in lignin valorization enables UPM to strengthen the role as a leading supplier of sustainable, renewable functional fillers to the rubber and plastic markets by further developing the technology inhouse. SunCoal Industries' experts will bring additional capabilities to further develop the RFF production technology and processes and support UPM's ambitious growth plans in the biorefining space. 
Founded in 2007, SunCoal Industries is located in Ludwigsfelde, Brandenburg, with pilot and lab facilities and employs 30 people. The company invented a globally patented hydrothermal treatment technology and licenced it to UPM for the production of wood-based functional fillers. The technology is implemented on an industrial scale for the first time at the biorefinery in Leuna.  
"This acquisition will strengthen our position in the renewable chemicals markets and marks a next step in the growth of our biorefining businesses," says Winfried Schaur, Executive Vice President Technology & Biorefining at UPM. "Scaling our biorefinery businesses is one of the key transformative steps for UPM. With the successful advanced biofuels refinery in Lappeenranta, the emerging biochemicals refinery in Leuna and the planned fuels and chemicals refinery in Rotterdam, UPM is taking a leading role in providing alternatives to oil based fuels and chemicals. The SunCoal acquisition announced today will broaden our patent base and contribute to further evolving our offering of innovative, sustainable chemicals."   
"After many years of trustful cooperation in supporting the realization of the Leuna biorefinery, we are excited that the SunCoal team will now be involved even more. We see UPM with their growth strategy as a global pioneer in the bioeconomy sector. For us, UPM's commitment to building the plant in Saxony-Anhalt is a prime example of a successful German-Finnish cooperation in an emerging technology driven market", say Tobias Wittmann and Friedrich von Ploetz, founding partners of SunCoal Industries. 
UPM invests EUR 1,180 million to build the world's first industrial scale biorefinery in Leuna, Germany. In Leuna, UPM will convert sustainably sourced, certified hardwood into next generation biochemicals that will enable the vital shift away from fossil-based to renewable materials across a wide range of industries. One of the products from the Leuna biorefinery will be the UPM BioMotionTM Renewable Functional Fillers, enabling a radical step forward in the sustainability performance of rubber and plastic products in various end-uses. The Leuna biorefinery is part of a broader growth area, UPM Biorefining, focused on scaling refineries producing a variety of renewable fuels and chemicals made from sustainable biomass.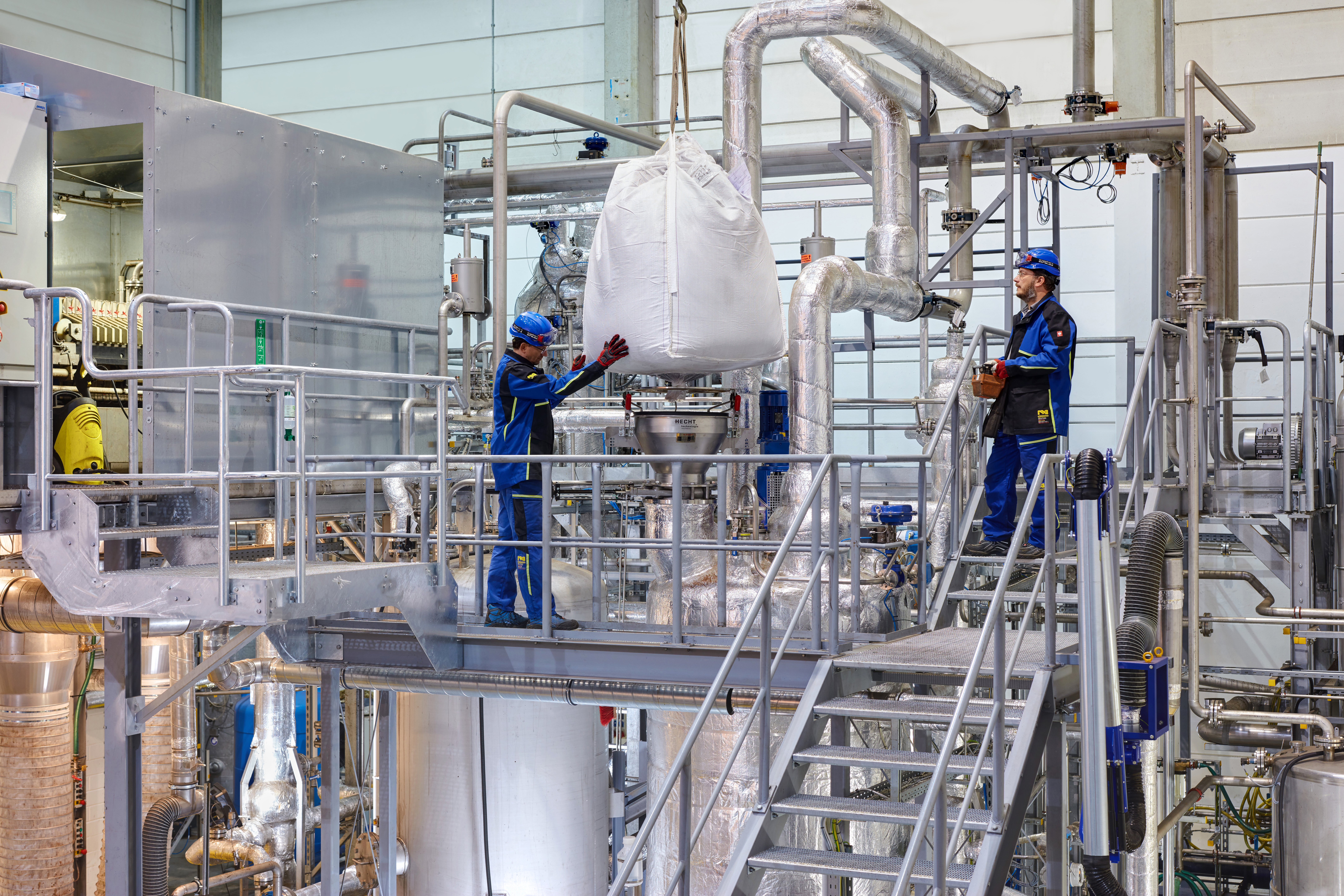 UPM Biochemicals acquires SunCoal Industries. Picture from the plant in Ludwigsfelde, Brandenburg. (Picture: SunCoal Industries) 
For further information please contact: 
Martin Ledwon, Vice President, Stakeholder Relations, UPM Biorefining & Technology, martin.ledwon@upm.com 
UPM, Media Relations 
Mon-Fri 9:00–16:00 EEST 
tel. +358 40 588 3284  
media@upm.com 
UPM Biochemicals 
UPM Biochemicals offers innovative, sustainable and competitive wood-based biochemicals for replacing fossil-based raw materials and improving the environmental performance in various applications. End-use segments for renewable glycols include textiles, PET bottles, packaging, coolants, composites, pharmaceuticals, cosmetics and detergents. Lignin-based Renewable Functional Fillers (RFF) offer a sustainable alternative to carbon black and precipitated silica in a broad range of rubber and plastic applications. UPM is building an industrial scale biorefinery in Leuna, Germany to convert solid wood into next generation biochemicals. UPM Biochemicals is accelerating the transition to a circular bioeconomy – where renewable feedstocks, sustainable production and sustainable consumption are the new normal. www.upmbiochemicals.com  
Follow UPM Biochemicals on LinkedIn. #upmbiochemicals #beyondfossils  
UPM 
We deliver renewable and responsible solutions and innovate for a future beyond fossils across six business areas: UPM Fibres, UPM Energy, UPM Raflatac, UPM Specialty Papers, UPM Communication Papers and UPM Plywood. As the industry leader in responsibility, we are committed to the UN Business Ambition for 1.5°C and the science-based targets to mitigate climate change. We employ 17,200 people worldwide and our annual sales are approximately EUR 11.7 billion. Our shares are listed on Nasdaq Helsinki Ltd. UPM Biofore – Beyond fossils. www.upm.com 
Follow UPM on Twitter | LinkedIn | Facebook | YouTube | Instagram | #UPM #biofore