This autumn, UPM will recruit some 70 new students for several apprenticeship programmes in Finland. The aim of these business-specific apprenticeship programmes is to increase the number of experts with a vocational degree for production and maintenance at UPM's mills throughout Finland.

UPM invests significantly in training programmes with high goals based on business needs. The scope of our training activities is illustrated by the fact that in recent years there have been 15–20 apprenticeship programmes running simultaneously in different businesses, with a continuous number of 150–300 future professionals.
The two-year programmes consist of practical on-the-job learning as well as contact instruction periods. The training is planned together with the external training partners. UPM pays salary to the students for the duration of the programme.
"UPM's multidisciplinary business requires expertise in various professions. The competence required for safe and productive work at the mills cannot be studied directly at school, although extensive basic training can certainly be obtained there. We have been refining our operating model according to our needs for years. Our training programmes are of a very high standard, and we continuously develop them further and monitor their quality, and also collect feedback from all parties involved. Our investments are notable, because we always select and train students with the idea that they would be employed in positions they are trained for," says Jari Nyström, Manager, Vocational training at UPM.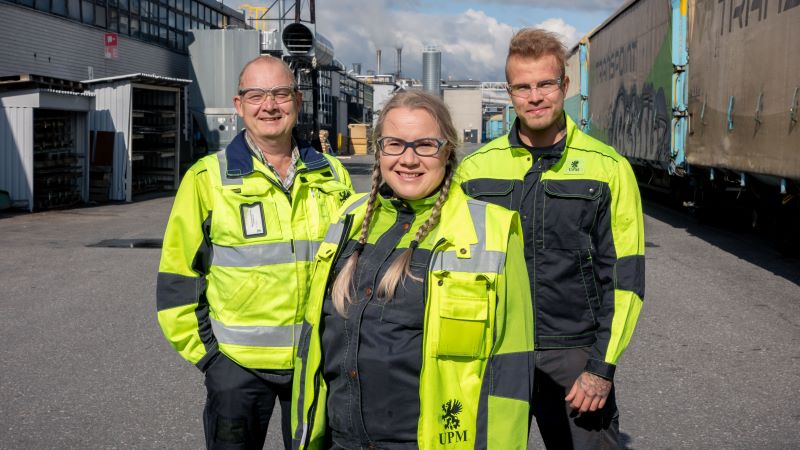 UPM's apprenticeship programmes are popular. In the just-completed application period, we received a total of 1,250 applications for 30 training positions at our three pulp mills in Finland and the Lappeenranta Biorefinery. We are currently looking for some 20 new plywood production professionals for UPM Plywood's Pellos, the Europe's largest plywood mill in Europe.
Today, a search will open for new apprenticeship positions for UPM's two paper mills in Kouvola and Lappeenranta, Finland.
For further information please contact:
Jari Nyström, Manager, Vocational training, UPM, tel. +358 2041 46660
UPM, Media Relations
Mon-Fri 9:00-16:00 EET
tel. +358 40 588 3284
media@upm.com
UPM
We deliver renewable and responsible solutions and innovate for a future beyond fossils across six business areas: UPM Biorefining, UPM Energy, UPM Raflatac, UPM Specialty Papers, UPM Communication Papers and UPM Plywood. As the industry leader in responsibility we are committed to the UN Business Ambition for 1.5°C and the science-based targets to mitigate climate change. We employ 18,000 people worldwide and our annual sales are approximately EUR 8.6 billion. Our shares are listed on Nasdaq Helsinki Ltd. UPM Biofore – Beyond fossils. www.upm.com
Follow UPM on Twitter | LinkedIn | Facebook | YouTube | Instagram | #UPM #biofore #beyondfossils