UPM Biomedicals and PerkinElmer collaborate to offer high throughput 3D cell screening solution
(UPM, Helsinki, 29 September 2021 at 16:00 EET) – UPM Biomedicals is pleased to announce that it has entered into an agreement with PerkinElmer Health Sciences, Inc., for the life science leader, to act as a distributor of the UPM GrowDex® and GrowDase™ range of products. This new collaboration will offer researchers a complete solution for high throughput screening (HTS) of 3D cell cultures in early drug discovery, bringing together PerkinElmer's cell imaging and automation solutions and knowledge with UPM's animal-free 3D reagent offerings and expertise.
Automated HTS is frequently used to assess the therapeutic potential for hundreds of candidate drugs in parallel, and the rise of 3D cell culture approaches has created a need for new high quality reagents suitable for HTS applications such as cancer drug screening. UPM's nanofibrillar cellulose GrowDex hydrogels create an environment that resembles the conditions inside the human body, and can be effectively handled at room temperature, making them well suited for scale up and automation without compromising performance. Combined with GrowDase – which enables effective one-step recovery of cells for downstream processing applications – this provides an ideal solution for high throughput 3D cell culture applications, offering more reproducible and reliable results to help predict how drugs will work in vivo.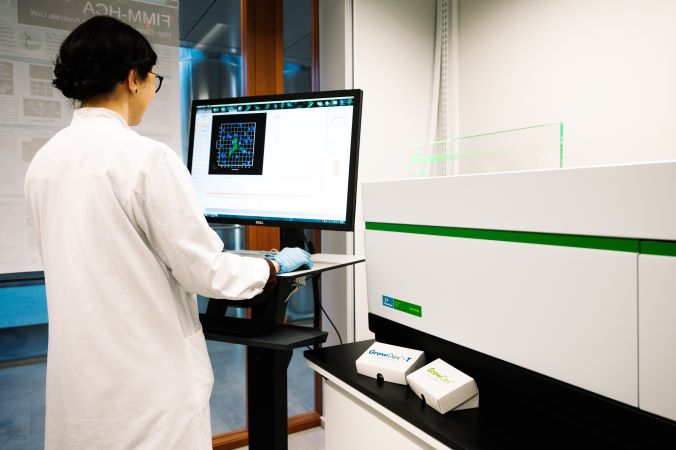 PerkinElmer's Opera Phenix® Plus automated high-content screening system is the ideal complement for GrowDex hydrogels, and this combined solution has already been successfully used in a number of notable research projects, including automated drug sensitivity and resistance testing of patient-derived cells for personalised cancer treatment research.
Johana Kuncova-Kallio, Director at UPM Biomedicals commented: "This solution brings together the instrument, software and cell culture matrices to make life easier for researchers, providing a high level of consistency between experiments. It will be exciting to see how this collaboration will help advance research and speed up the drug development process. Together with PerkinElmer, we have ensured that the products are ready to ship immediately."
Alan Fletcher, Senior Vice President Life Science at PerkinElmer, added, "Establishing the physiological relevance of potential therapeutic approaches earlier in the research cycle is crucial to advancing drug discovery and reducing clinical trial failure rates. By collaborating with UPM to offer their innovative 3D cell reagents, we are able to expand our offering for 3D cell culture models and further help researchers get to the critical insights they need faster to uncover successful drug candidates."
To find out more, visit www.upmbiomedicals.com
For further information please contact:
Johana Kuncova-Kallio, Director, UPM Biomedicals, tel. +358 40 612 6300
Tony Kiuru, Life Science Business Development Manager, UPM Biomedicals, tel. +358 40 708 5100
UPM, Media Relations
Mon-Fri 9:00-16:00 EET
tel. +358 40 588 3284
media@upm.com
UPM
We deliver renewable and responsible solutions and innovate for a future beyond fossils across six business areas: UPM Biorefining, UPM Energy, UPM Raflatac, UPM Specialty Papers, UPM Communication Papers and UPM Plywood. As the industry leader in responsibility we are committed to the UN Business Ambition for 1.5°C and the science-based targets to mitigate climate change. We employ 18,000 people worldwide and our annual sales are approximately EUR 8.6 billion. Our shares are listed on Nasdaq Helsinki Ltd. UPM Biofore – Beyond fossils. www.upm.com
Follow UPM on Twitter | LinkedIn | Facebook | YouTube | Instagram | #UPM #biofore #beyondfossils
About PerkinElmer
PerkinElmer enables scientists, researchers, and clinicians to address their most critical challenges across science and healthcare. With a mission focused on innovating for a healthier world, we deliver unique solutions to serve the diagnostics, life science, food, and applied markets. We strategically partner with customers to enable earlier and more accurate insights supported by deep market knowledge and technical expertise. Our dedicated team of about 15,000 employees worldwide is passionate about helping customers work to create healthier families, improve the quality of life, and sustain the well-being and longevity of people globally. The Company reported revenue of approximately USD3.8 billion in 2020, serves customers in 190 countries, and is a component of the S&P 500 index. Additional information is available at www.perkinelmer.com.