UPM supports Finnish universities and makes a contribution of 40,000 face masks as part of the company's Biofore Share and Care programme. The masks will be handed to the students in the Faculty of Agriculture and Forestry at the University of Helsinki, the School of Chemical Engineering at Aalto University, the Faculty of Science and Engineering at Åbo Akademi University and Chemical Engineering students at Lappeenranta University of Technology.
"We support our stakeholders in making their everyday life during the Covid-19 pandemic as safe as possible. Students are important to us and interaction is a significant part of studies. The masks have been in short supply as the need for face masks in different fields has increased. Therefore, we have delivered 500,000 surgical face masks to our key stakeholders all around the world. The safety of face-to-face courses is important to students who are beginning their studies or taking laboratory courses, for example. That's where the masks come in handy," Pirkko Harrela, Executive Vice President, Stakeholder Relations at UPM says.
UPM has been active in procuring face masks during the pandemic. We have tried to ensure that we have enough masks for our own personnel, contractors and visitors at our sites. We have also offered the help of our sourcing specialists for non-profit purposes free of charge. Over this summer, UPM offered all production sites the possibility to give masks locally to a local home care or a health centre, for example.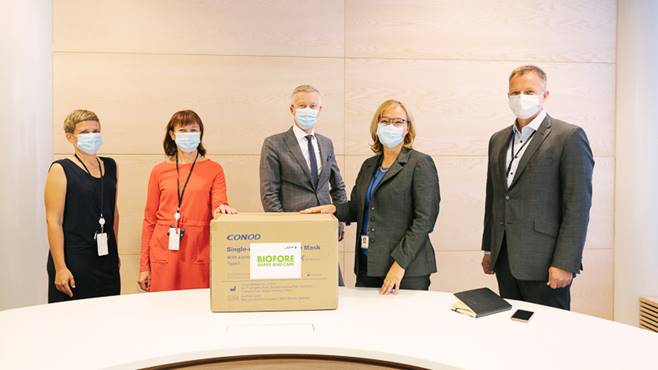 Photo from the left: Suvipäivikki Mikola, Liaison Manager, University of Helsinki, Ritva Toivonen, Kaarle Hämeri, Chancellor, University of Helsinki, Pirkko Harrela and Sauli Brander, SVP, UPM Forest

"We are truly delighted by the support UPM has given us and offer our sincere thanks," Ritva Toivonen, Dean of the Faculty of Agriculture and Forestry at the University of Helsinki says. "Our faculty provides courses that involve laboratory work and field work in forests and bogs, and on fields. They are essential to learning and cannot be replaced by e-learning. We try to ensure that the necessary face-to-face learning and research work are also carried out safely in these exceptional circumstances. Therefore, we use some 160 face masks daily."
UPM supports sustainable development and promotes the wellbeing of the communities by participating in numerous local projects. These projects are coordinated through the Biofore Share and Care programme. The donations and sponsorships we give and the pro bono voluntary work we do through the programme have promoted the common good in different ways both nationally and locally. A lot has been accomplished already and the valuable work will continue also in the future.
For more information, please contact:
Kaisa Vainikka, Manager, Social Responsibility, UPM, tel. +358 400 382 843
For more information: Covid-19 support for local communities
UPM, Media Relations
Mon–Fri from 9:00–16:00
Tel. +358 (0)40 588 3284
media@upm.com
UPM
We deliver renewable and responsible solutions and innovate for a future beyond fossils across six business areas: UPM Biorefining, UPM Energy, UPM Raflatac, UPM Specialty Papers, UPM Communication Papers and UPM Plywood. As an industry leader and pioneer in responsibility, we joined the UN Business Ambition for 1.5°C campaign. The targets and measures we have set to mitigate climate change are based on scientific research. We employ around 18,700 people worldwide, and our annual sales are approximately EUR 10.2 billion. UPM shares are listed on the Nasdaq Helsinki exchange. UPM Biofore – Beyond fossils. www.upm.com
Follow UPM on Twitter | LinkedIn | Facebook | YouTube | Instagram | #UPM #biofore #beyondfossils