UPM has newly adopted the target of doubling the amount of broadleaved trees growing in company-owned forests in Finland. In the light of current research data, increasing the proportion of broadleaved trees improves the forest's growth and yield as well as its species diversity and resistance to climate change. UPM plans to increase the proportion of broadleaved trees to one fifth of all tree species growing in habitats that are suitable for birch. The dominant tree species growing in Finnish forests are typically pine and spruce. 

The decision to increase broadleaved trees is an important and timely move. "It makes sense from every angle. It will improve our yield capacity and also safeguard biodiversity. It will additionally ensure that our forests stay healthy and better equipped to resist the altered conditions caused by climate change. In the multi-purpose forestry sector, we strongly rely on native tree species," says Sauli Brander, SVP, UPM Forest.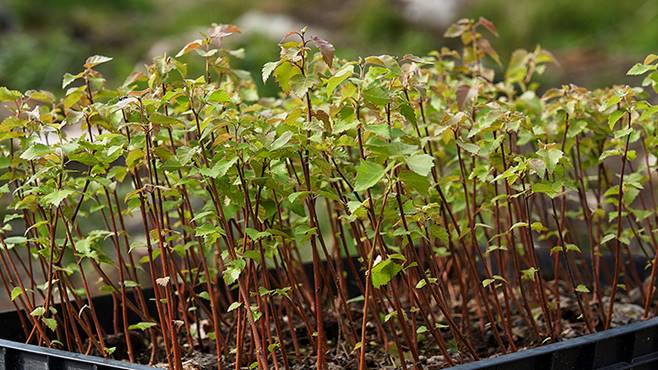 New work instructions will be issued for clearing and thinning to increase the proportion of broadleaved trees in suitable growth areas. The new instructions will take effect this year. The new policy will also directly affect UPM's nursery in Joroinen, Finland. "We are committed to increasing our capacity for birch seedlings," says Anne Immonen, Manager, UPM Nursery. 
UPM's forest assets in Finland cover over half a million hectares. Although UPM sources the majority of its wood from private forest owners, company-owned forests play an important role in its wood sourcing, development of forestry operations, and training of personnel. The best practices developed in the company's forests are also shared with private forest owners. 
UPM is the first forest company in the world to officially adopt the target of enhancing biodiversity in company-owned forests in Finland by 2030. The new decision to increase the amount of broadleaved trees forms part of an extensive toolkit of instruments for safeguarding biodiversity. 
UPM sees the new policy as an effective way of simultaneously promoting all of the company's 2030 responsibility targets. It will also strengthen the international competitiveness of Finnish forests measured by all key indicators.
Read more on the UPM website.
For more information, please contact:
Sauli Brander, Senior Vice President, UPM Forest, tel.+358 40 567 4155
UPM, Media Relations
Mon-Fri 9:00-16:00 EET
tel. +358 40 588 3284
media@upm.com
UPM
We deliver renewable and responsible solutions and innovate for a future beyond fossils across six business areas: UPM Biorefining, UPM Energy, UPM Raflatac, UPM Specialty Papers, UPM Communication Papers and UPM Plywood. As the industry leader in responsibility we are committed to the UN Business Ambition for 1.5°C and the science-based targets to mitigate climate change. We employ 18,700 people worldwide and our annual sales are approximately EUR 10.2 billion. Our shares are listed on Nasdaq Helsinki Ltd. UPM Biofore – Beyond fossils. www.upm.com
Follow UPM on Twitter | LinkedIn | Facebook | YouTube | Instagram | #UPM #biofore #beyondfossils