Royal DSM, a global science-based company in Nutrition, Health and Sustainable Living, SABIC, a global leader in the chemical industry, and UPM Biofuels, a leading producer of sustainable raw materials, today announced a partnership that will help to reduce the environmental footprint of Dyneema®, the world's strongest fiber. The collaboration will see Dyneema® transition to bio-based feedstock leveraging SABIC's ground-breaking TRUCIRCLE™ solutions for certified renewable products. As such, DSM is delivering on its commitment to improve the sustainability footprint of Dyneema®, moving towards a circular, bio-based economy.

In December 2019, DSM announced ambitious sustainability targets for its Dyneema® high performance fibers. This new partnership represents an important step in realizing the goal of sourcing at least 60% of its feedstock from bio-based raw material by 2030. The transition to bio-based feedstock will maintain the unique properties of Dyneema®, enabling customers to adopt a more sustainable solution without compromising process efficiency or final product performance. The Dyneema® bio-based material will be carrying the globally recognized ISCC Plus certification and will not require re-qualification of downstream products. Bio-based Dyneema® will be available from April 2020.
UPM Biofuels produces bio-based feedstock UPM BioVerno from the residue of the pulping process. This is then processed by SABIC to make renewable ethylene under their TRUCIRCLE™ umbrella of solutions. TRUCIRCLE™ includes certified renewable products, specifically resins and chemicals from bio-based feedstock that are not in competition with the food chain and help to reduce carbon emissions. By applying a mass balancing approach1, DSM is then able to create bio-based Dyneema® fiber that delivers consistent durability and performance with a reduced environmental impact. The new partnership underlines DSM's commitment to working closely with partners and suppliers to realize a more sustainable value chain.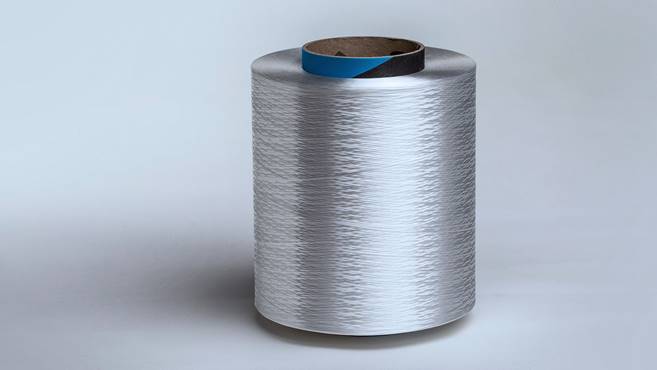 Dyneema®, the world's strongest fiber, is used to make ropes and textiles, among others.
Wilfrid Gambade, President DSM Protective Materials: "By partnering with SABIC and UPM Biofuels, we are taking the next important step in our sustainability journey and driving our industry's transition from conventional to renewable resources. By improving the impact of our materials, together with our partners, we are helping to protect both people and the environment they live in. In this way, we are using our bright science to deliver brighter living."
Mark Vester, Circular Economy Leader at SABIC, said: "We firmly believe that true collaboration and innovation will drive positive change. With our TRUCIRCLE initiative, we are more committed than ever to closing the loop on used plastics in 2020. We are delighted to be partnering with DSM and UPM Biofuels as a further step towards transforming the value chain and creating a circular, transparent, and sustainable economy."
Juha Rainio, Sales and Marketing Director at UPM Biofuels: "We are committed to replacing fossil-based feedstocks with renewable ones. This collaboration with SABIC and DSM is an excellent example of a future beyond fossils, which is a key driver for UPM going forward."
For further information please contact:
Anneli Kunnas, Senior Manager, Stakeholder Relations, UPM Biofuels,
tel. +358 40 520 7605, e-mail: anneli.kunnas@upm.com
Claire Theunissen, Global Manager, Communications & External Affairs, DSM,
tel. +31 630 631 754, claire.theunissen@dsm.com
Lindsay Clarkmead, SABIC,
tel. +34 648 246 318, lindsay.clarkmead@sabic.com
UPM, Media Relations
Mon-Fri 9:00-16:00 EET
tel. +358 40 588 3284
media@upm.com
UPM
We deliver renewable and responsible solutions and innovate for a future beyond fossils across six business areas: UPM Biorefining, UPM Energy, UPM Raflatac, UPM Specialty Papers, UPM Communication Papers and UPM Plywood. We employ around 19,000 people worldwide and our annual sales are approximately EUR 10.5 billion. Our shares are listed on Nasdaq Helsinki Ltd. UPM Biofore – Beyond fossils. www.upm.com
Follow UPM on Twitter | LinkedIn | Facebook | YouTube | Instagram | #UPM #biofore #beyondfossils
UPM BIOFUELS
UPM Biofuels produces renewable and sustainable products for the transport and petrochemical industries. We offer our customers ways to replace fossil raw materials and reduce their carbon footprint. UPM's innovative, bio-based products are frontrunners in quality, usability and sustainability. www.upmbiofuels.com
Follow UPM Biofuels on LinkedIn |  Twitter | Facebook | YouTube| #5yearsofupmbiofuels #beyondfossils
DSM – Bright Science. Brighter Living.™
Royal DSM is a global, purpose-led, science-based company active in Nutrition, Health and Sustainable Living. DSM's purpose is to create brighter lives for all. DSM addresses with its products and solutions some of the world's biggest challenges while simultaneously creating economic, environmental and societal value for all its stakeholders – customers, employees, shareholders, and society at large. DSM delivers innovative solutions for human nutrition, animal nutrition, personal care and aroma, medical devices, green products and applications, and new mobility and connectivity. DSM and its associated companies deliver annual net sales of about €10 billion with approximately 23,000 employees. The company was founded in 1902 and is listed on Euronext Amsterdam. More information can be found at www.dsm.com.
Or find us on:



ABOUT SABIC
SABIC is a global leader in diversified chemicals headquartered in Riyadh, Saudi Arabia. SABIC manufactures on a global scale in the Americas, Europe, Middle East and Asia Pacific, making distinctly different kinds of products: chemicals, commodity and high performance plastics, agri-nutrients and metals. SABIC supports its customers by identifying and developing opportunities in key end markets such as construction, medical devices, packaging, agri-nutrients, electrical and electronics, transportation and clean energy. SABIC recorded a net profit of US$ 5.7 billion in 2018. Sales revenues for 2018 totaled US$ 45 billion while total assets stood at US$ 85 billion. Production in 2018 was 75.3 million metric tons. SABIC has more than 33,000 employees worldwide and operates in around 50 countries. Fostering innovation and a spirit of ingenuity, SABIC has 11,738 global patent filings, and significant research resources with innovation hubs in five key geographies – USA, Europe, Middle East, South Asia and North Asia.
TRUCIRCLE™ is SABIC's complete portfolio of solutions that span design for recyclability, mechanically recycled products, certified circular products from feedstock recycling of plastic waste streams and certified renewables products from bio-based feedstock.
---
1 Mass balance accounting is a well-known approach that has been designed to trace the flow of materials through a complex value chain. The mass balance approach provides a set of rules for how to allocate the bio-based and/or recycled content to different products to be able to claim and market the content as 'bio'-based or 'recycled'-based. Source: Ellen MacArthur Foundation (Mass Balance White Paper).