Collaboration and partnerships: Circular economy in action
UPM actively develops new solutions to speed up the transition to circular economy and sustainable use of renewable materials. But we are not doing everything on our own. We are especially looking for partners to develop solutions in circular economy, customer friendly digital solutions, utilisation of non-core patents and industrial internet.
Partnerships add value and bring flexibility
Partnerships enable us to develop new business models and solutions. They also get us to the market faster. We work together with a wide network of universities and research institutes as well as start-ups and technology suppliers. UPM is seeking business development and innovation in various projects through collaboration. The special focus areas are development of circular economy, utilisation of residues and resource efficiency.
UPM is a shareholder in the Finnish CLIC Innovation, which focuses on bioeconomy and cleantech research. The Cluster's research programmes focus on bioeconomy as well as energy and environmental research, thus supporting UPM's internal R&D activities. Furthermore, we are one of the founding members of the industrial consortium part of the European Joint Undertaking on Bio-based Industries (BBI). This Public Private Partnership (PPP) aims to trigger investments and create a competitive market for bio-based products and materials that are sourced locally.
UPM & Yara – A great example of industrial co-operation potential
In years 2017-2018 UPM and the fertiliser and crop nutrition expert Yara Suomi Oy worked together in a nutrient recycling project co-funded by the Finnish Ministry of the Environment. The companies investigated the possibility of developing a functional and cost-efficient recycled fertiliser for industrial-scale production.
During the project the sludge generated from pulp and paper manufacturing processes was dried and complemented with mineral nutrients that are easier for the plants to utilise. Finally, the product was pelletised to facilitate transport, storage and spreading. As end result the companies developed an organomineral fertiliser with moderately good yield results.
As the production process turned out to be both technically and financially challenging, no profitable business could be generated from the project. The collaboration between companies continues by utilising the learnigns from the project to develop further end-uses for sludge.
The project was part of the Raki2, a nutrient recycling programme under the Finnish Government. The programme aims to utilise circular economy to promote the good ecological state of the Baltic Sea and to improve nutrient recycling.
The final report in Finnish is available on The Finnish Ministry of the Environment website.
Read more:
Zero Solid Waste project
UPM's Zero Solid Waste project develops smart and sustainable solutions, where excess materials circulate and generate value. It focuses on implementing best practices for the use of ash, sludge, dregs, wood and mixed waste at all production units in Finland.
UPM aims to reach a Zero Solid Waste to Landfill operational status by 2030. This target has already been reached in Austria and seven UPM mills in Germany. The goal is not too far in Finland either.
Close co-operation with Baltic Sea Action Group (BSAG)
UPM has committed that by the year 2030 we will use only recycled nutrients at our biological waste water treatment plants. With this commitment, we participate in the work of Baltic Sea Action Group. By recycling nutrients we enhance the wellbeing and preservation of both the Baltic Sea and other watercourses.

Our target is to find recycled nutrients from local sources. This helps reducing local eutrophication in the best case and in any case it promotes circular economy. In order to achieve the target, we have worked to find possible local sources, that are mainly agricultural and industrial biogas plant operators and municipal wastewater treatment plants. The first results are now at hand. This summer the first tests are being performed at UPM Kaukas mill in Lappeenranta, Finland, and later also at other UPM mills in Finland.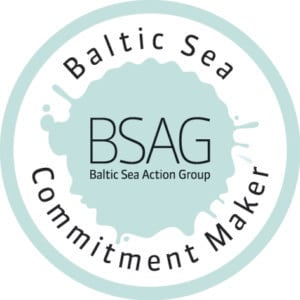 Read more:
More with Biofore in China - aiming for even more efficient paper mill
The More with Biofore in China programme seeks to improve the environmental performance and energy efficiency of mills through new innovative technologies. UPM Changshu paper mill is a pilot in a 2-3-year research programme to improve the energy and water efficiency at the mill.
The goal of the More with Biofore in China programme is to reduce emissions in China, but at the same time the company is looking for new solutions that can also be applied at other UPM mills around the world.
One of the processes aims at reducing the water consumption of the three paper machines and the other aims at reducing carbon dioxide and particle emissions from our power boilers.In the latter UPM co-operates with both the power boiler supplier and VTT Technical Research Centre of Finland Ltd.
We are also looking into supplying the sludge resulting from water treatment as raw material for a nearby factory.
The programme also attempts to improve the efficiency of energy use. Optimising electricity consumption also involves decreasing air emissions resulting from energy generation.
Commercialising innovations with Green Campus Innovations
Green Campus Innovations (GCI) is an investment company established in 2012 by Lappeenranta University of Technology (LUT). It is one of UPM's partners in commercialising innovations that are not directly connected to UPM's core business areas. The collaboration between the university, the investment company and UPM enables the partners to combine their competencies in bioeconomy, industrial engineering and management, business administration, and marketing.
In 2015, UPM and LUT signed a license contract concerning the Biokenno technology developed by UPM. GCI will play an important role in commercialising the Biokenno technology and in developing the business around it.
UPM and GCI are jointly evaluating potential for industrial symbioses and utilisation of sidestreams. The project is one of various UPM development projects that aim to find new end uses for the side streams of the Kaukas mill site and new partners to commercialise these streams. The goal is to create new business and develop an Industrial Symbiosis concept for UPM.
Read more: